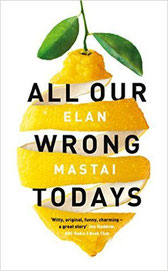 Titel: All our wrong todays
Autor: Elan Mastai

Verlag: Michael  Jospeh
Meine Bewertung: 3 von 5 Punkten
Inhalt:
You know the future that people in the 1950s imagined we'd have? Well, it happened. In Tom Barren's 2016, humanity thrives in a techno-utopian paradise of flying cars, moving sidewalks, and moon bases, where avocados never go bad and punk rock never existed . . . because it wasn't necessary.
Except Tom just can't seem to find his place in this dazzling, idealistic world, and that's before his life gets turned upside down. Utterly blindsided by an accident of fate, Tom makes a rash decision that drastically changes not only his own life but the very fabric of the universe itself. In a time-travel mishap, Tom finds himself stranded in our 2016, what we think of as the real world. For Tom, our normal reality seems like a dystopian wasteland.
(Ab hier fängt der Klappentext mal wieder an, zu spoilern) But when he discovers wonderfully unexpected versions of his family, his career, and—maybe, just maybe—his soul mate, Tom has a decision to make. Does he fix the flow of history, bringing his utopian universe back into existence, or does he try to forge a new life in our messy, unpredictable reality? Tom's search for the answer takes him across countries, continents, and timelines in a quest to figure out, finally, who he really is and what his future—our future—is supposed to be
Meine Meinung:
Das (neue) Cover hat mich sofort angesprochen und auch der Inhalt hat mich sehr neugierig gemacht.
Zukunft, Sci-Fi... es waren interessante Ansätze in der Geschichte zu finden, allerdings hat man nicht dieses coole feeling. Wahrscheinlich, weil die Hauptperson ein ziemlicher Loser.. ähm... ein richtiger Anti-Held ist. Er erzählt die Geschichte zum Großteil nur aus der rein erzählerischen (nicht handelnden!) Ich-Perspektive... puh, etwas langweilig.

Zum Glück kann man oft unterbrechen, da man innerhalb weniger Minuten ein Kapitel beendet hat. Ein Kapitel hat selten mehr als drei Seiten.

Dieses Buch besitzt insgesamt 137 Kapitel!
Viele kurze Kapitel also... und am Anfang sehr viele Dinge, die geklärt werden, die weniger spannend sind. Aber irgendwie ist doch alles ein wenig wichtig, da dieses Buch im Endeffekt den Schwerpunkt doch nicht auf Sci-Fi, sondern auf Familie und Beziehung und Moral legt. 
Das Ende fand ich leider auch enttäuschend unlogisch, weswegen ich froh war, als ich es endlich beendet habe.

Nicht spannend, nicht ergreifend, nicht wirklich Sci-Fi und ausgefeilt genug. Ich würde es nicht unbedingt weiterempfehlen.

Allerdings gibt es doch einige Dinge (bezüglich Familie, Beziehungen, Entscheidungen) die mir im Kopf bleiben werden.